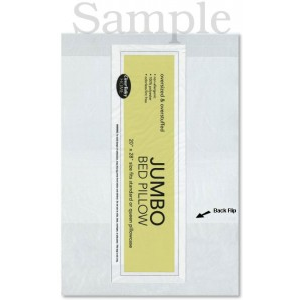 Backflip Bags are available in any color, size, and thickness. The product is placed in the backflip bag and top folds like a 'sandwich bag'. These bags are commonly used for quick and easy packaging allowing people to feel the product inside the bag. Backflip bags are often used by manufacturers of apparel, bedding, and pillows.
Used to contain apparel without permanently sealing it – those situations when customers want to feel the product as part of the sales process. This is a easy-close bag without having to seal the bag.
Custom BackFlip Bag Options:
Smallest Dimensions: 3" wide x 4" long
Largest Dimensions: 30" wide x 52" long
Material: Polyethylene (PE), Polyproplyne (PP), or Coextruded (Coex)
Order Size: Smallest Order 30,000
Color Printing: Up to 10 Colors
Thickness: .001 – .006
Choices: Bottom gussets, perforations and a captive flap
Bottom Gusset: 0.25 inch – 12.0 inches
Durable & Solid
Available in a Variety of Styles
Made in USA
BackFlip Bag Available in Multiple Colors & Tints
Manufactured & Shipped Quickly
Custom Made to Your Specifications
Custom Back Flip Bags
As a provider and manufacturer of custom backflip bags, we understand the importance of representing your brand and product appropriately – in a functional yet stylish fashion. Your packaging acts as marketing materials for your business, and we understand that. Ensure your company is represented the right way with custom backflip bag options from Excellent Poly. To order, complete the form below or call us at 877.768.6555 for a quote!
Unlimited Options
Customizable: Available in any color, size and thickness.
Options: Our back flip bags come in a number of tints and are available to be customized to your needs. Have a company logo you'd like on the bag? We can do that. Have multiple logos you'd like put on the bags? We can do that, too.
Efficient: Orders for non-printed bags can be available and ready to ship within days and printed bags within 10 days to 2 weeks.
Superb Client Service
You'll be amazed at just how quickly Excellent Poly can turn around your order for back flip bags. Our typical lead time for an order is around three weeks, but we are 100% prepared to help when time gets tight with our expedited service.
Rush orders for non-printed bags can be shipped in around a week, while custom printed bags can be prepared as quickly as 10 days to two weeks. If you need a custom design, but don't have the expertise – don't worry! We have designers on staff who can assist you in creating the back flip bag you envision.
Call us Toll-Free at 877-768-6555 today!